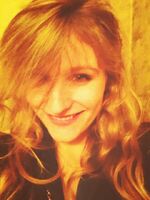 Nicole Peterson is one of Ke$ha's past assistants. She worked for Kesha from 2011-2013 until she quit to pursue a relationship with her boyfriend. In Assistant, an episode of Ke$ha: My Crazy Beautiful Life, the episode focuses on Ke$ha looking for an assistant to fill her shoes. Erica Summers replaces her. Ke$ha has described her as her best friend.
References
Edit
Ad blocker interference detected!
Wikia is a free-to-use site that makes money from advertising. We have a modified experience for viewers using ad blockers

Wikia is not accessible if you've made further modifications. Remove the custom ad blocker rule(s) and the page will load as expected.