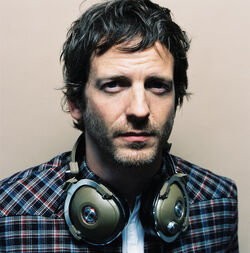 Lukasz Sebastian "Luke" Gottwald (born September 26, 1973), better known as Dr. Luke, is an American songwriter, record producer, multi-instrumentalist and remixer.
Sexual assault allegations and lawsuit
In September 2013, Rebecca Pimmel, a fan of Kesha, set up a petition to "free" Kesha from Dr. Luke's management and accused Luke of "stunting" Kesha's creative growth as an artist.[1] The petitioners concur with the position stated in Kesha's TV series documentary, My Crazy Beautiful Life, in which Luke serves as an executive producer, that she had little creative control of her second album, Warrior.[2]
In January 2014, shortly after Kesha was admitted to a rehab center for bulimia nervosa, Kesha's mother, Pebe Sebert, made allegations that pressure for Kesha to lose weight came from Dr. Luke. Sebert claimed that Dr. Luke said that Kesha looked "like a refrigerator" which instigated her eating disorder. Dr. Luke denies these claims.[3]
In October 2014, Kesha sued Dr. Luke, claiming sexual assault and battery, sexual harassment, gender violence, civil harassment, violation of California's unfair business laws, intentional infliction of emotional distress, negligent infliction of emotional distress and negligent retention and supervision.[4][5] Gottwald responded by filing a countersuit alleging that Kesha's lawsuit was an attempt by Kesha, her mother and her new management firm to extort him into releasing her from her contract.[6]
A preliminary injunction was denied on February 19, 2016.[7]
References