Love Into the Light" is a song performed and written by Ke$ha. It serves as the twelfth and ending track on the standard edition of Ke$ha's sophomore album Warrior.
Background
Edit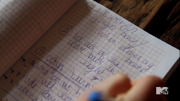 In "
A Warrior In the Making
", an episode of
Ke$ha: My Crazy Beautiful Life
, Ke$ha is shown writing and performing a demo of "Love Into the Light." While jotting down on her notebook she narrates "I really want to write a song about the importance of love and acceptance."
Album version
Edit
I know I'm not perfect
I know I got issues
I know that I've got a sordid past
And yeah some bad tattoos

I'm not a model I'm not a saint
I'm sorry but I am just not sorry
'Cause I swear and 'cause I drink

Maybe it's about the time
To let all of the love back in the light
Maybe it's about the perfect place
To let go and forget about the hate
Love into the light

I know we're all different baby that's life
But all of these differences they make me feel alive
And I've got this question yeah
Been burnin' through my head
Can't we all get over ourselves and just stop talkin' shit

Maybe it's about the time
To let all of the love back in the light
Maybe it's about the perfect place
To let go and forget about the hate
Love into the light

All of the shit talk yeah all the chatter
Cuts like a knife yeah kills like a dagger
Love into the light

All that I have yeah all that I'm after
Love in this life it's what really matters
Love into the light

Maybe it's about the time
To let all of the love back in the light
Maybe it's about the perfect place
To let go and forget about the hate
Love into the light

All of the shit talk yeah all the chatter
Cuts like a knife yeah kills like a dagger
Love into the light
All that I have yeah all that I'm after
Love in this life it's what really matters
Love into the light
Love into the light
Love into the light
Love into the light
Demo version
Edit
I know I ain't perfct
I know I got issues
I know that some of ya'll
hate my gold tooth & bad tattoos

I'm not a model
I'm not a saint
I never said I -

I know we're all different
But baby that's life
Since when are these differences so wrong
Kids are takin' their own lives

But maybe it's about the time
To let all of the love back in the light