"Ke$ha: My Crazy Beautiful Life" is an American reality television series aired on MTV, that features pop recording artist, Ke$ha. Filming began in February 2011, as the Get $leazy Tour kicked off. The first season aired on April 23rd, 2013 and ended on May 28, 2013. The second season premiered on October 30, 2013 and ended on December 18, 2013. A third season has not been announced.
Season 1:
Edit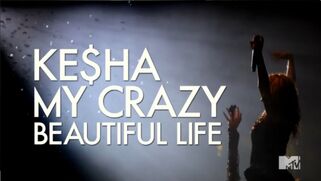 The first season chronicles Ke$ha as she works through all the drama and adventures in both her personal and professional life over the course of two years, during her Get $leazy Tour. Filmed by her brother Lagan Sebert, and filmmaker Steven Greenstreet, it also encompasses the artist as she creates her sophomore album, Warrior and travels to various countries.
Reception
Edit
The first season received mixed to positive reviews. Metacritic, which gives reviews on a scale of 1 to 100, gave the show's first season a 55, which represents mixed or average reviews. The episode A Warrior in the Making was subject to criticism from the Parents Television Council due to a short scene in which Ke$ha supposedly drinks her own urine.
Season 2:
Edit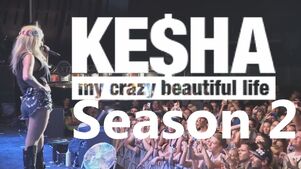 The second season focuses primarily on Ke$ha's personal life, family dynamics and the situations that occur when she tries to live a normal life during a much needed break from touring. Ke$ha's brother, Louie, makes his first appearance in the show.  Recording and writing her third studio album play a small role.
References
Edit
Ad blocker interference detected!
Wikia is a free-to-use site that makes money from advertising. We have a modified experience for viewers using ad blockers

Wikia is not accessible if you've made further modifications. Remove the custom ad blocker rule(s) and the page will load as expected.