"C'mon" is a song performed by Ke$ha. It serves as the third track & second single on Ke$ha's sophomore album Warrior. The song was originally released as a promotional single on November 16, 2012. The song was re released as the official second single on January 7, 2013.
Cross-references
Edit
Background
Edit
| | | |
| --- | --- | --- |
| " | That song is just a ridiculous song about running around with the guy you're in love with and acting like a jackass and drinking warm beer. - Ke$ha in Warrior's commentary video | " |
Commercial release
Edit
Weeks prior to being released officially to radio stations of the U.S., "C'mon" debuted at number 99 on the Billboard Hot 100 and 28 on the Billboard Pop Songs Chart. Upon the release, the song debuted at number 70 on the Hot Digital Songs with 60,000 copies sold. It peaked at number 27 on the Billboard Hot 100, becoming her first solo single to not chart within the top ten in the United States. It has sold 350,000 copies in its first month being released. As of April 2013, the song has sold over 700,000 digital copies. It and "Crazy Kids" have so far been her only singles to not sell over one million copies and two million copies.
In Europe, the song performed poorly; Ireland is the only country there where it reach the Top 40 at number 33. On the UK Official Charts, it peaked at 70, but her follow-up single, "Crazy Kids", was more successful across the continent.
Physical releaseEdit
Netherlands (G010002879246Z) CD Single
Edit
"C'mon" – 3:34
"Die Young (Deconstructed Version)" - 3:21
Germany (88883705052) CD Single
Edit
"C'mon" – 3:34
Digital releaseEdit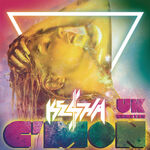 "C'mon" – 3:34
Wideboys Club Remix - 5:51
Wideboys Radio Remix - 3:52
Cutmore Club Remix — 6:05
Cutmore Radio Remix - 3:55
Music video
Edit
Information
Director(s)
Darren Craig
Producer(s)
Jonathan Craven
Time
4:47
The video was filmed on December 22, 2012. It was released on January 11, 2013 on Ke$ha's YouTube.
Saw you leanin' against that old record machine
Saw the name of your band written on the marque
It's a full moon tonight so we gettin' rowdy
Yeah we gettin' rowdy gettin' rowdy

Feelin' like I'm a high schooler
Sippin' on a warm wine cooler
Hot 'cause the party don't stop
I'm in a crop-top like I'm workin' at Hooters

We been keepin' it PG
But I wanna get a little frisky
Come give me some of that yum like a lollipop
Let me set you free

Come on 'cause I know what I like
And you're lookin' just like my type
Let's go for it just for tonight
C'mon, c'mon, c'mon

Now, don't even try to deny
We're both going home satisfied
Let's go for it just for tonight
C'mon, c'mon, c'mon

Write our names on the wall in the back of the bar
Steal some bubblegum from the corner Mexi-Mart
Now we laughin' like kids 'causin' trouble in the dark
'Causin' trouble in the dark trouble in the dark

Feelin' like a sabertooth tiger
Sippin on a warm Budweiser
Touch me and gimme that rush
Better pack a toothbrush
Gonna pull an all-nighter

We been keepin' it kosher
But I wanna get it on fo' sure
Come give me some of that yum like a lollipop baby don't be scurred

Come on 'cause I know what I like
And you're lookin' just like my type
Let's go for it just for tonight
C'mon, c'mon, c'mon

Now, don't even try to deny
We're both going home satisfied
Let's go for it just for tonight
C'mon, c'mon, c'mon

I don't wanna go to sleep
I wanna stay up all night
I wanna just screw around
I don't wanna think about what's gonna be after this
I wanna just live right now

I don't wanna go to sleep
I wanna stay up all night
I wanna just screw around
I don't wanna think about what's gonna be after this
I wanna just live right now

Come on 'cause I know what I like
And you're lookin' just like my type
Let's go for it just for tonight
C'mon, c'mon, c'mon

Now, don't even try to deny
We're both going home satisfied
Let's go for it just for tonight
C'mon, c'mon, c'mon
References
Edit