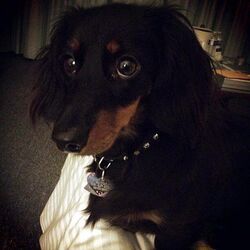 Bacon was Kesha's dachshund. She was born in early 2011 while Kesha purchased her in May 2011. Bacon then moved into Pebe's house after becoming attached to the other dogs.
She appeared on Ke$ha: My Crazy Beautiful Life in the episode "A Warrior In the Making."
Ad blocker interference detected!
Wikia is a free-to-use site that makes money from advertising. We have a modified experience for viewers using ad blockers

Wikia is not accessible if you've made further modifications. Remove the custom ad blocker rule(s) and the page will load as expected.